100% Complete Daily Nutrition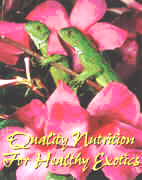 No other food or supplements are needed.

Convenient
Rep-Cal Foods take the guesswork out of supplying the proper nutrition for exotic reptile species.

Economical
Rep-Cal is committed to quality improvement which leads to greater productivity, decreased costs, and a low price.

Easy Conversion
The Rep-Cal gradual conversion method makes it fast, easy and safe to convert any reptile to our food.

The Most Tested And Researched Reptile Food
Our staff of veterinarians research the nutritional needs of each reptile species to design diets which are complete and balanced. Each diet has been tested in feeding trials on our animals and assessed by growth studies, blood analyses and complete physiological exams.

Improved Digestibility
Our ingredients are highly digested, and our extrusion (cooking) process ensures absorption of more nutrients.

Excellent Taste
Every Rep-Cal Food contains a natural blend of tasty ingredients that reptiles love.